Why customers choose ACROSEED
1.Over 20,000 successful applications
Unlike other types of paperwork there is no exact correct answer when it comes to matters of immigration. Two people with almost identical circumstances could apply and only one be successful in their application. Depending on the current political climate and many other factors the same applications can have different outcomes.
Here at Acroseed we understand that it is not just a box ticking exercise. We strive to always be evolving and on top of current trends in how immigration is dealing with applications. This among many other reasons is why we have been able to be successful for nearly 40 years.
2.We work as a team to ensure speedy and specialist service
 The average office in our field has merely one lawyer working on every case. Here at Acroseed we have a team of experts who work together to make sure your application is a smooth and pleasant experience. No matter how much of an expert you may be we at Acroseed believe that an individual has their limits and the only way to expand these is to work together. This means that we can ensure that the documents we make are sufficiently double checked and accurate.
3.We offer support in English and Chinese
We understand that learning a second language is an incredible feat and that even if somebody is very fluent legal vocabulary can seem almost impossible to understand. This is especially true when it comes to matters of immigration where your ability to stay in the country is involved.
This is why we are proud to say that we can offer support from native speakers of both English and Chinese.
4.We offer free re-application
Here at Acroseed we always give our best to make sure that you get the result that you want. This is why we have a 99% success rate with visa applications. This confidence is one of the main reasons we offer re-application for free.
Another reason is pragmatism. We understand that as we are not the ones deciding we can never 100% promise that we will get the desired result. There are many factors that can lead to an unsuccessful application. And most of the time these can be fixed and even an unsuccessful first application can lead to a successful second or third application. As part of our standard service we promise to go directly to immigration to find out the exact reason your application was not successful and work with you to overcome it for the next application. Where many offices would simply give up we see it as a chance to help you get your desired result. This also means that we do not take on a customer lightly. We will only agree to work on an application if we are confident that there is a good chance of being successful.
5. The customer's privacy is our top priority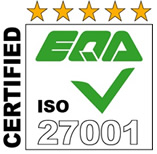 Here at Acroseed we are ISO27001 certified. This is one of the strictest accreditations in the industry when it comes to private data storage and management. We are constantly evaluating or data protection policy and strive to be always improving and evolving. This is why we are trusted by both big companies and individual clients alike.
6.Free Consultation
We believe that the best service is friendly service. This is why consultation will always be free. We want you to feel able to come with us with any question and we will do our best to try and help you.
We also do this so that you can fully understand what we can do to help you as well as the process and costs involved before you make a decision.