About us
Our story
1.Our story
Acroseed was established in Minami-Aoyama in 1986 and officially recognised by immigration in 1990 with the introduction of the authorized agent system. We are a family business and have been doing business for more than 35 years over 2 generations.
Acroseed was started at a time when there were barely a handful of other people offering visa services and the public's vision of administrative scriveners was that of men in suits who mainly dealt with business permissions. We were regularly met with shock when we mentioned that we offer visa services.
The company was started by the father of our current boss. Before he went down this path he had worked for a company that dealt with goods shipment. This put him in a very unique situation for a man in the 70s because he had been able to travel the world. It was his travels and the inevitable interactions with immigration authorities that lead to his eventual interest in immigration law.
2. Our Founder's Values
When he started this company our founder decided on four rules he believed would lead to our success.
1). You must do all you can to make the customer happy.
2). You must never forget that you are helping people.
3).You must always be honest if you want to continue your business.
4). You must not care too much about what others are doing and always be open to new things.
It is because of these principles that lie at the heart of our company philosophy that Acroseed has been able to thrive for all of these years. We have found that professional expertise alone is not enough for success and so we are constantly striving to better ourselves and focus on the ideals above. In order to do this we have created our 3 promises.
1. Consultation will always be free
The first thing we start from is always free consultation. This is because we want to put helping people above all other things. We know that with even just a little bit of time we can solve problems for our customers. So we offer free consultation so that people can come talk to us freely.
2. Our prices are set and clear
In the past there were specific rules about what we were able to charge for different services. Ever since these rules were gotten rid of many find understanding prices to be very confusing and may feel that they are being charged unfairly because of their situation. Because of this we have decided that our prices will always be decided based on the service we provide and not on the customer.
3. We do not charge extra for re-application
With our over 35 years of experience we can confidently say that we know what we are talking about when it comes to immigration law. However, even we can not promise 100% that a visa application will be accepted. Our goal is to support you being successful and getting the result you want. Because of this we offer re-application for no additional cost. (N.B. there are situations where free re-application does not apply however, this will be explained beforehand).
These may seem like very strict rules but we believe that by following these we are best able to ensure we do what is best for the customer and can hold ourselves responsible for the work we do. We have been asked about the best way to make our customers happy for years but the answer we keep coming to is simply to get the visa they need for them.
In order to do this we never give less than 100% of our effort and are dedicated to helping our customers even if it means we have to go to immigration and ask one thousand questions in order to find out a way to get you your visa.
A Message from our boss:
As the second generation head of Acroseed I have been running this company for over 20 years. Because of this many people will think that I have everything figured out and there is nothing new for me to learn. This is not the case. When it comes to immigration the rules are ever evolving and even though we have successfully completed may thousands of applications we are constantly encountering new and unique cases all of the time.
It is the fact that there are no perfect answers that give us the drive to always be learning new things in order to serve our customers the best we can.
Our Current Company Goals:
1. Think from the customer's perspective.
We try not to see ourselves as 'expert' and 'customer' but rather as people working together to do what is best for you. We work hard to stand in your shoes and see the world from where you are. This helps us to understand the best way to get you what you want and prove to you that you can trust us.
2. Always keep our promises
It goes without saying that we treat agreements with our customers very seriously. But more than that we vow to keep the little promises that we make and never lie to our customers. This means that we will be clear about the price you pay and you will be the last person to check any documents we submit.
3.Never Make the customer wait
We promise that as much as possible we will deal with your requests the same day. If this is not possible we will explain this and work with you to decide a new deadline.
4. Focus on results
We believe that the only way to make the customer happy is to secure the visa they want. While many other places will give up when the application has been submitted here at Acroseed we will not stop until we get the result.
Group Structure
 ACROSEED Group provides a one-stop service through an administrative scrivener (with immigration specialization) corporation and a certified tax accountant corporation.
ACROSEED Co., Ltd

・Established in 1991
・30 million yen capital
・Representative Director Makoto Sano

ACROSEED Immigration Lawyer's Office

・Established in 1986
・Representative Administrative Scrivener Makoto Sano
 Administrative Scrivener Masashi Miyagawa

ACROSEED Certified Tax Accountant's Office

・Established in 2009
・Representative Tax Accountant Takeshi Nishizawa
Our Publications
Use it Straight Away! Understand With Examples! Real Life Guide for Hiring Foreigners.

Publisher: Daiichihouki
Second Edition Published: December 3rd 2019

Our Book 'Real Life Guide for Hiring Foreigners' was published by Daiichihouki and is currently in its second edition.
In this book we explain the necessary knowledge and immigration procedures needed by companies when hiring foreigners. With this book you will be able to learn from real life examples what to be careful with when hiring foreigners.
This book was even recognised as a textbook to be used when studying for the Gaishi-Kentei test in May 2020.
◆For More information about the Gaishi-Kentei here:
Easy to Understand Immigration Paperwork: Basic Knowledge, Real Life Application and Past Examples
Written By Sano Shuo, Sano Makoto
First Edition Published: October 2001
Fifth Edition Published: July 2017
Publisher: Nihonkajoshuppan
Price: ¥3,600 (Tax Excl.)
A Best-Seller of 16 years. This book contains not just a wealth of knowledge about laws and ordinances it also contains a huge number of real-life examples of visa paperwork and is read by everyone from company HR managers to Attorneys alike. We tried to write this book simply and straight forward to make it accessible not just to experts but also total beginners. This book is split in to two main sections. A guide to basic knowledge and actual visa paperwork and a Q&A that covers 112 important questions that people have when it comes to visas. This book is loved and used widely as a learning book by the Gyoseshoshi Association to Municipal offices alike.
The Practical Manual for International Marriage

Written By: Sano Makoto (CEO of Acroseed)
Miyagawa Masashi (Immigration Lawyer Acroseed)
Published By: Nihonkajoshuppan
Price: ¥2,900 (Tax Excl.)
First Edition Published: March 2011
・This Guide Focuses on Marriage paperwork to give you the best understanding of International Marriage
・This Book Contains Various Case Studies of Foreigner and Japanese, Foreigner and Foreigner Marriage to help you understand the process of getting married in Japan
・This Book Explains Specific Countries like China, Korea and the Philippines in Specific Detail
・This Book Contains an Easy-to-Understand Q&A
・This Book Has a Useful Booklet of Chinese, Korean, and Philippine Marriage Law
With This One Book You Can Understand:
・Necessary Knowledge of Civil Law and Paperwork for International Marriage
・What to Do When Your Spouse is from China, The Philippines or Korea
・Immigration Law and Visas
・Visa Free Entry and Paperwork Needed to Enter Japan
・Visa Extension, Change of Statuses and Re-entry Permission
・What to do when two foreigners of different nationality get married in Japan
・Paperwork after marriage is complete and paperwork needed in the case of divorce
・Special Permission for Residence, Daily Life and Childbirth etc.
The Ultimate Guide for Successfully Starting Your Company in Japan
Written By: Sano Makoto
First Published: 15th February 2010
Published By: Nihonkajoshuppan
Price: ¥2,300 (Tax Excl.)
・Starting Companies for Foreigners
・Company Establishment for Foreign Executives
・Company Establishment Procedure for Foreigners
・Procedure for Obtaining Business Manager Visa
・Business Management for Foreigners
・How Immigration is changing
・Others: Example Paperwork, Application forms
Our Media Appearances
週刊文春デジタル(February 16th 2020)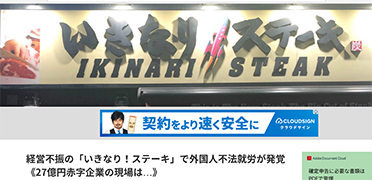 Read our CEOs comments on illegal foreign work in this article about how illegal foreign labour was discovered allegedly being used by いきなりステーキ(Ikinari Steak).  Link to the Article:
荘内日報掲載 (December 1st 2019)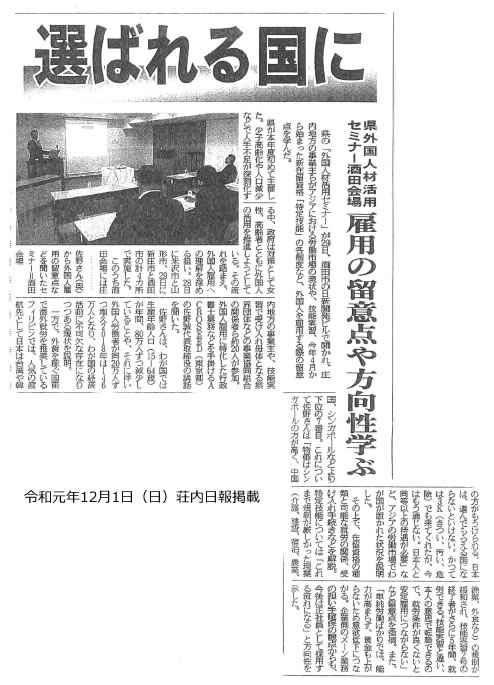 Our CEO was featured in this edition of the Yamagata newspaper when we held 4 seminars over Yamagata about making the most of the foreign workforce.
山形新聞掲載(November 29th 2019)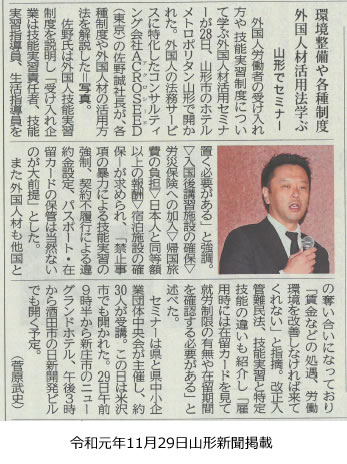 Our CEO was featured in the most popular newspaper in all of Yamagata when we held 4 seminars in over Yamagata about making the most of the foreign workforce.
総合報道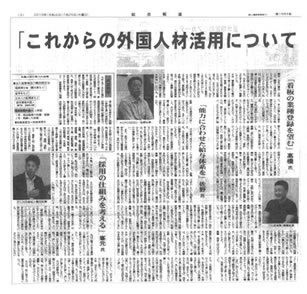 Our CEO was featured in this newspaper when he attended a conference held by industry leaders about the technical intern trainee scheme.
BUSINESS LAWYERS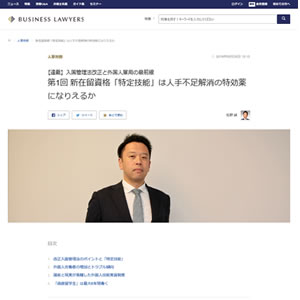 The website Business Lawyers operated by 弁護士ドットコム株式会社 featured interviews with our CEO about how immigration law could be changed and what effects this will have on the employment of foreigners.
研修・技能実習制度を活用して外国人を受け入れる際の留意点(2020/01/10)
第4回 アルバイトの留学生を社員として採用する際の留意点(2019/06/24)
第3回 外国人社員が在留期限の更新を忘れた場合の対応(2019/06/10)
第2回 外国人雇用を働き方改革のチャンスに変える(2019/05/27)
第1回 新在留資格「特定技能」は人手不足解消の特効薬になりえるか(2019/05/20)
フジサンケイビジネスアイ
Number of Businesses Run by Foreigners Increasing and What the Government Needs to Do to Support Them an report 8 Key Points when hiring foreign exchange students as part-time workers
ワールドビジネスサテライト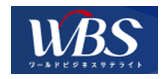 「The End of Abenomics Stage 1: What Comes Next 」
ロイター通信

「Voices of Concerned Raised at Strengthening of Support for Employment of Foreigners Critics claim no Clear Control 」
ジャパンタイムス

Abe hopes to roll out red carpet for foreign startups