Our Publications
Our Publications
Use it Straight Away! Understand With Examples! Real Life Guide for Hiring Foreigners.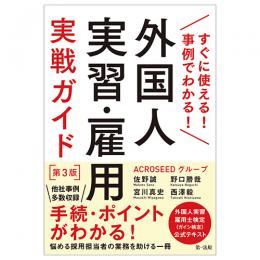 Publisher: Daiichihouki
Second Edition Published: December 3rd 2019

Our Book 'Real Life Guide for Hiring Foreigners' was published by Daiichihouki and is currently in its second edition.
In this book we explain the necessary knowledge and immigration procedures needed by companies when hiring foreigners. With this book you will be able to learn from real life examples what to be careful with when hiring foreigners.
This book was even recognised as a textbook to be used when studying for the Gaishi-Kentei test in May 2020.
◆For More information about the Gaishi-Kentei here:
Easy to Understand Immigration Paperwork: Basic Knowledge, Real Life Application and Past Examples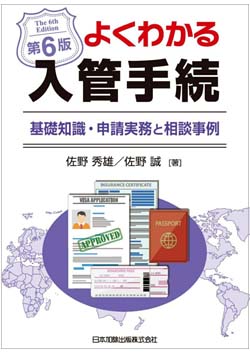 Written By Sano Hideo, Sano Makoto
First Edition Published: October 2001
Fifth Edition Published: July 2017
Publisher: Nihonkajoshuppan
Price: ¥3,600 (Tax Excl.)
A Best-Seller of 16 years. This book contains not just a wealth of knowledge about laws and ordinances it also contains a huge number of real-life examples of visa paperwork and is read by everyone from company HR managers to Attorneys alike. We tried to write this book simply and straight forward to make it accessible not just to experts but also total beginners. This book is split in to two main sections. A guide to basic knowledge and actual visa paperwork and a Q&A that covers 112 important questions that people have when it comes to visas. This book is loved and used widely as a learning book by the Gyoseshoshi Association to Municipal offices alike.
The Practical Manual for International Marriage

Written By: Sano Makoto (CEO of Acroseed)
Miyagawa Masashi (Immigration Lawyer Acroseed)
Published By: Nihonkajoshuppan
Price: ¥2,900 (Tax Excl.)
First Edition Published: March 2011
・This Guide Focuses on Marriage paperwork to give you the best understanding of International Marriage
・This Book Contains Various Case Studies of Foreigner and Japanese, Foreigner and Foreigner Marriage to help you understand the process of getting married in Japan
・This Book Explains Specific Countries like China, Korea and the Philippines in Specific Detail
・This Book Contains an Easy-to-Understand Q&A
・This Book Has a Useful Booklet of Chinese, Korean, and Philippine Marriage Law
With This One Book You Can Understand:
・Necessary Knowledge of Civil Law and Paperwork for International Marriage
・What to Do When Your Spouse is from China, The Philippines or Korea
・Immigration Law and Visas
・Visa Free Entry and Paperwork Needed to Enter Japan
・Visa Extension, Change of Statuses and Re-entry Permission
・What to do when two foreigners of different nationality get married in Japan
・Paperwork after marriage is complete and paperwork needed in the case of divorce
・Special Permission for Residence, Daily Life and Childbirth etc.
The Ultimate Guide for Successfully Starting Your Company in Japan
Written By: Sano Makoto
First Published: 15th February 2010
Published By: Nihonkajoshuppan
Price: ¥2,300 (Tax Excl.)
・Starting Companies for Foreigners
・Company Establishment for Foreign Executives
・Company Establishment Procedure for Foreigners
・Procedure for Obtaining Business Manager Visa
・Business Management for Foreigners
・How Immigration is changing
・Others: Example Paperwork, Application forms
Free consultation/inquiry for visa application
Since opening our practice in 1986, we have been involved in consulting on visa applications for foreigners for nearly 40 years as an immigration lawyer.
Telephone consultation, email consultation, online consultation, and consultation at our office are available.